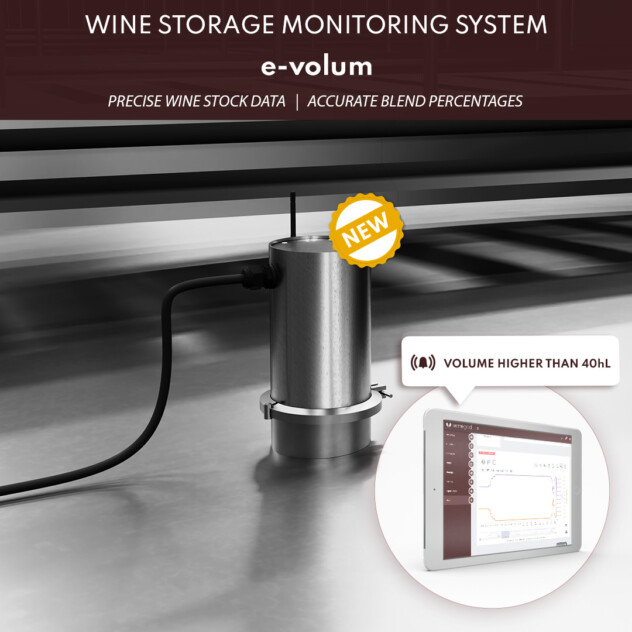 WINEGRID announces a new winemaking monitoring solution: 𝗲-𝘃𝗼𝗹𝘂𝗺
Winemakers will now be able to take 𝘄𝗶𝗻𝗲 𝘀𝘁𝗼𝗿𝗮𝗴𝗲 to the next level with WINEGRID's 𝗲-𝘃𝗼𝗹𝘂𝗺, a solution that measures the distance to liquid from the top of the tank and allows them to obtain the volume of wine anytime and anywhere.
Its contactless measurements maintain wine's integrity and provide 𝗽𝗿𝗲𝗰𝗶𝘀𝗲 𝘄𝗶𝗻𝗲 𝘀𝘁𝗼𝗰𝗸 𝗱𝗮𝘁𝗮, allowing the comparison of wine quantity in each tank. The 𝗮𝗰𝗰𝘂𝗿𝗮𝘁𝗲 𝗯𝗹𝗲𝗻𝗱𝗶𝗻𝗴 𝗽𝗲𝗿𝗰𝗲𝗻𝘁𝗮𝗴𝗲𝘀 provided by𝗲-𝘃𝗼𝗹𝘂𝗺 assure the consistency of the wine profile. This avoids the reduction in quality and consequent devaluation of the brand and the final product.
In combination with the Fermentation Monitoring System (wineplus) data, it is possible to know the blend percentage from each tank and trace it back to the grapes' variety and terroir.
Now WINEGRID's solutions fully cover all the stages of the winemaking process.